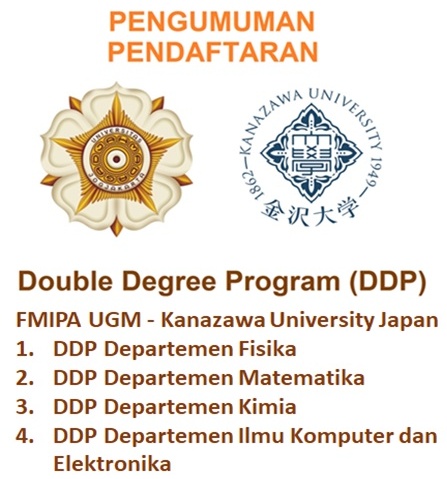 Diumumkan bagi calon mahasiswa S2/Magister Prodi Fisika, Prodi Matematika, Prodi Kimia, dan Prodi Ilmu Komputer UGM, mengenai dibukanya Program Gelar Ganda (Double Degree Program – DDP) antara FMIPA UGM dan Graduate School of Natural Science and Technology, Kanazawa University Japan.
Mahasiswa yang dapat mengikuti program ini adalah Mahasiswa S2 dari Prodi Fisika, Prodi Matematika, Prodi Kimia, dan Prodi Ilmu Komputer UGM Angkatan 2020 Periode Februari atau Periode Agustus yang dinyatakan diterima oleh  Direktorat Pendidikan dan Pengajaran (DPP) UGM (Bukti Diterima sebagai mahasiswa S2 dapat disusulkan).
Program Gelar Ganda ini adalah program dalam bidang Master dalam bidang Sains Komputasi.  Setelah menyelesaikan program, mahasiswa akan mendapatkan dua ijazah sekaligus, yaitu ijazah S2 dari UGM dan Master of Computational Science dari Kanazawa University Japan.
Program DDP ini berlangsung selama dua tahun perkuliahan (termasuk penyelesaian tesis) dengan setahun perkuliahan di FMIPA UGM dan setahun berikutnya di Kanazawa University Japan. Tersedia beasiswa dengan jumlah terbatas bagi mahasiswa yang memenuhi syarat.
Beasiswa DDP ini ditujukan kepada mahasiswa S2 FMIPA UGM yang mana masuknya melalui jalur PEMBIAYAAN MANDIRI sehingga memberikan kesempatan untuk memperoleh beasiswa dan studi ke luar negeri (Jepang).
DEADLINE : 3 Agustus 2020 (Senin) pukul 17.00 WIB
Pengumuman Lolos Berkas: 4 Agustus 2020
Jadwal Interview (Komite DDP Kanazawa University): 27 Agustus 2020 (via Skype)
Untuk detailnya, silakan kunjungi
http://cmpsci.w3.kanazawa-u.ac.jp/DDP/ddp_mc-ugm_guidelines_forms_Oct2020.pdf 
Pendaftaran DDP FMIPA UGM – KANAZAWA UNIVERSITY dilakukan melalui link: FORM DDP-2020.
Pertanyaan terkait program ini dapat dikirimkan ke:
Office of International Affairs FMIPA UGM: Dr. Sholihun/Sri Retno Nugrahani oia.mipa[at]ugm.ac.id
Atau ke CP masing-masing departemen berikut: