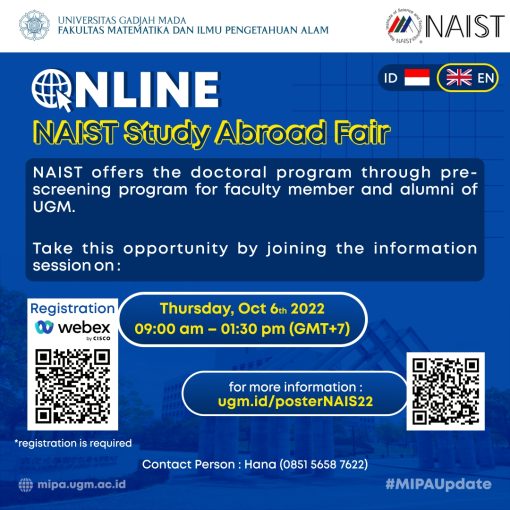 Nara Institute of Science and Technology (NAIST) is a Japanese national university located in Kansai Science City, a border region between Nara, Osaka, and Kyoto. Founded in 1991, NAIST consisted of graduate schools in three integrated areas: Information Science, Biological Sciences, and Materials Science. In 2018, NAIST underwent an organizational transformation to continue research in these areas while promoting interdisciplinary research and education across traditional fields. With this new single graduate school organization, NAIST strives forward with the objectives of conducting cutting-edge research in frontier areas and training students to become tomorrow's leaders in science and technology.
We are happy to announce that Nara Institude of Science and Technology Japan offer the Doctoral study program(*) for tudents with a background in Chemistry, Physics, Chemical Engineering, or Materials Science in Universitas Gadjah Mada
For more information about this study abroad, please join NAIST-DMS fair that will be held on Thursday, Oct 6th 2022 at 09:00 AM – 01:30 PM (GMT+7).
Registration phase for  applicants from UGM:
Open Registration: October 10th 2022
Closed Registration: October 23rd 2022
Selection Phase: October 24-27th 2022
Final Announcement: October 28th 2022
Detail information: ugm.id/posterNAIS22
Contact Person : 085156587622 (Hana)