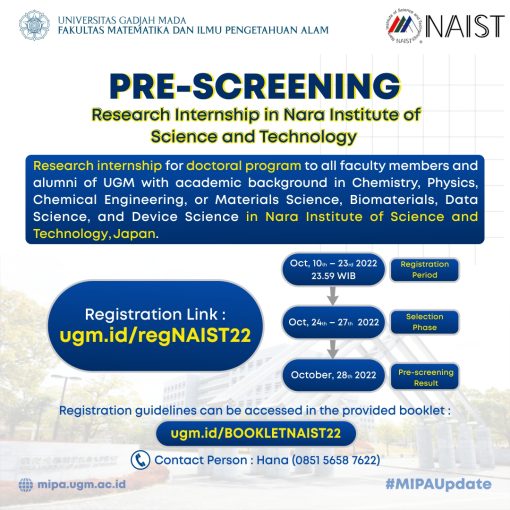 Nara Institute of Science and Technology (NAIST) is a Japanese national university located in Kansai Science City, a border region between Nara, Osaka, and Kyoto. Founded in 1991, NAIST consisted of graduate schools in three integrated areas: Information Science, Biological Sciences, and Materials Science. In 2018, NAIST underwent an organizational transformation to continue research in these areas while promoting interdisciplinary research and education across traditional fields. With this new single graduate school organization, NAIST strives forward with the objectives of conducting cutting-edge research in frontier areas and training students to become tomorrow's leaders in science and technology.
We are pleased to inform you that registration for a research internship at Nara Institute of Science and Technology is now open to all faculty members and alumni of Universitas Gadjah Mada.
Please download the application guideline in https://bit.ly/BOOKLETDMS22 for detailed information.
Registration phase for pre-screening applicants from UGM:
–              Open Registration: October 10th 2022
–              Closed Registration: October 23rd 2022 11.59 pm
–              Selection Phase: October 24-27th 2022
–              Final Announcement: October 28th 2022
Required documents:
–              Curriculum Vitae (https://bit.ly/CVNAIST22)
–              Academic Transcripts (combine the Bachelor and Master program)
–              English Certificate (TOEIC score or equivalent (e.g., TOEFL, IELTS, etc.) if available)
–              Research Record (maximum five pages of A4-size)
–              Research Plan (maximum two pages of A4-size)
Submit the aforementioned documents to Application Form in https://ugm.id/regNAIST22
Contact Person : 085156587622 (Hana)